Director, Research (On-site) $142,900.00-$182,100.00
Property: 
550 NEWPORT CTR (0003)
Location: 
Newport Beach, CA, 92660
Division: 
SP&A/R.E. Inv. & Analytics (SP&A)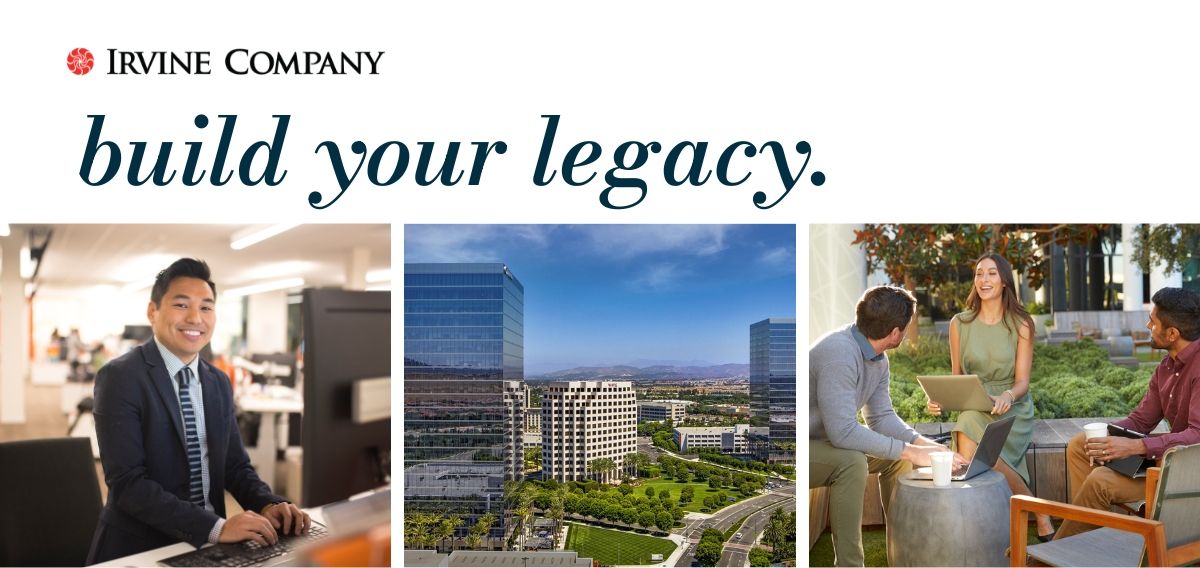 Position Summary:
The SP&A Research team serves as the primary source of economic, demographic, and sector level information used as macro context for strategic decision making at the Irvine Company. The group is a centralized, Corporate function and supports all operating divisions. Applicants have the opportunity to gain insight into the Company's growth strategies for multiple property types in a fluid and ever-changing environment. The Director level role will come with executive visibility and team leadership potential.
Job Duties:
Drive day-to-day workflow and deliverable management for the Research group at large, including balancing incoming executive requests with proactive, team-generated workflow.
Identify ways to continually add value to the organization via workflow production and cross-divisional relationship building. 
Deliver high quality strategic research to inform forward strategy objectives, driven by coverage of key issues and trends impacting commercial real estate and the Company.
Identify the action items from research deliverables and communicate to executive clients.
Track and report on economic, demographic, and real estate forecasts at the national, state, and local level; update the Company's view of economic conditions for quarterly Board of Directors meetings.
Regularly analyze public REIT competitors for divisional benchmarking purposes and competitive strategy insight.
Maintain and expand relationships with key third party research providers, consultancies, and economic forecasters. 
Assist in management of the Company's research subscriptions and platform.
Minimum Qualifications / Other Expectations:
Demonstrated research experience. Demonstrated interest in an analytic research or strategy-focused career. Approx.10 years experience preferred, preferably in a finance, consulting, or economic / market research capacity. A high level understanding of commercial property types and real estate markets is required. 
Executive level written and verbal communication. Ability to quickly synthesize complicated information from multiple sources into concise, relevant, and timely briefs with clear "next step" strategy considerations for an executive audience.
Intellectual curiosity. Seeks thought leadership, diversity in perspective, and creative approach within all work product. Keen awareness of the "big picture" / ability to pull executive conclusions from the details.
Extreme attention to detail. Prioritizes precision and perfection in all submitted work product.
Highly organized / adaptive. Able to efficiently and productively manage ever-changing priorities and demands on a lean team.
Collaborative team player. Collaborative mentality with clear ability to build relationships and resourcefully obtain information for research production; willingness to "roll up your sleeves" for the sake of group productivity.
 Compensation:
Base Pay Range: $142,900.00 - $182,100.00
Actual placement within this range may vary based upon, but not limited to, relevant experience, time in role, base salary of internal peers, prior performance, business sector, and geographic location.
The Company also offers competitive benefits for full time employees including paid time off, matching 401(k), and health benefits.

About Us:
Irvine Company is a privately held real estate investment company and master-planner committed to creating and sustaining communities that thrive for generations.

Irvine Company is respected for its master planning and environmental stewardship of the Irvine Ranch in Orange County, including diversified operations throughout coastal California. Irvine Company brings to life neighborhoods and sustainable communities with a full range of housing, jobs, retail centers, schools, parks and open space.

We take as much pride in our employee community as we do the communities we create. It's an environment populated with talented and experienced people, a collaborative spirit and abundant opportunities.

Apply today to join our employee community, and learn more about Irvine Company, our legacy and our guiding principles.


Irvine Company is committed to providing equal opportunity in all of our employment practices, including selection, hiring, promotion, transfer, compensation, termination, and training, without regard to race, religion, color, sex, sexual orientation, gender, gender identity, national origin, ancestry, citizenship status, marital status, pregnancy, age, medical condition, genetic information, military and veteran status, disability, or any other basis protected by federal, state, and local law. Reasonable accommodation is available for qualified individuals with disabilities, upon request.
#LI-Onsite

Nearest Major Market: Orange County
Nearest Secondary Market: Los Angeles
Job Segment: Real Estate, Manager, Sales, Management