Maintenance + Engineering
Combining exceptional mechanical aptitude with the passion to deliver a great customer experience, our maintenance and engineering professionals are at the top of their field. Whether you prefer the customer service driven atmosphere of our office properties and apartment communities, or the fast-paced environment you'll find at our world-class resort, we have a full spectrum of opportunities at various locations. With our dynamic culture and customized training programs, you'll be empowered with the tools and support you need to excel.
Save Category as RSS Feed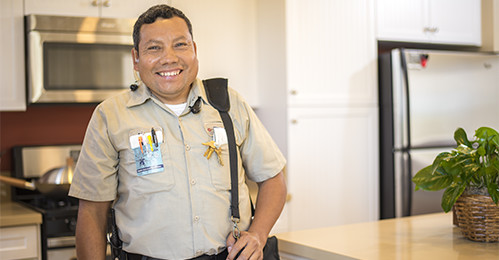 I love working for Irvine Company because it has great values and offers excellent career development to help employees be successful.
Search results for "". Page 1 of 2, Results 1 to 25
Title
Job Function
Location
Date
Service Technician

SAN DIEGO, CA, US, 92121

Dec 18, 2018

0.00 mi

Maintenance

CA

SAN-DIEGO-Service-Technician-CA-92121

Field Coordinator

Newport Beach, CA, US, 92660

Dec 18, 2018

0.00 mi

Maintenance

CA

Newport-Beach-Field-Coordinator-CA-92660

Greenskeeper I

Irvine, CA, US, 92618

Dec 18, 2018

0.00 mi

Landscape

CA

Irvine-Greenskeeper-I-CA-92618

Porter

Los Angeles, CA, US, 90094

Dec 17, 2018

0.00 mi

Maintenance

CA

Los-Angeles-Porter-CA-90094

Service Technician

Los Angeles, CA, US, 90094

Dec 17, 2018

0.00 mi

Maintenance

CA

Los-Angeles-Service-Technician-CA-90094

Second Assistant Superintendent

Newport Beach, CA, US, 92657

Dec 16, 2018

0.00 mi

Maintenance

CA

Newport-Beach-Second-Assistant-Superintendent-CA-92657

Lead Engineer - Commercial Facility

San Diego, CA, US, 92121

Dec 15, 2018

0.00 mi

Maintenance

CA

San-Diego-Lead-Engineer-CA-92121

Service Technician

Carlsbad, CA, US, 92010

Dec 15, 2018

0.00 mi

Maintenance

CA

Carlsbad-Service-Technician-CA-92010

Service Technician

San Jose, CA, US, 95134

Dec 14, 2018

0.00 mi

Maintenance

CA

San-Jose-Service-Technician-CA-95134

Service Manager | Sr. Service Manager

Santa Clara, CA, US, 954054

Dec 14, 2018

0.00 mi

Maintenance

CA

Santa-Clara-Service-Manager-Sr_-Service-Manager-CA-954054

Service Technician

San Diego, CA, US, 92122

Dec 14, 2018

0.00 mi

Maintenance

CA

San-Diego-Service-Technician-CA-92122

Porter

Cupertino, CA, US, 95014

Dec 14, 2018

0.00 mi

Maintenance

CA

Cupertino-Porter-CA-95014

Porter

Santa Clara, CA, US, 95054

Dec 13, 2018

0.00 mi

Maintenance

CA

Santa-Clara-Porter-CA-95054

Service Technician

San Diego, CA, US, 92124

Dec 12, 2018

0.00 mi

Maintenance

CA

San-Diego-Service-Technician-CA-92124

Porter

San Diego, CA, US, 92130

Dec 12, 2018

0.00 mi

Maintenance

CA

San-Diego-Porter-CA-92130

Service Technician

San Jose, CA, US, 95134

Dec 10, 2018

0.00 mi

Maintenance

CA

San-Jose-Service-Technician-CA-95134

Porter

San Diego, CA, US, 92108

Dec 10, 2018

0.00 mi

Maintenance

CA

San-Diego-Porter-CA-92108

Spray Technician

Newport Beach, CA, US, 92657

Dec 9, 2018

0.00 mi

Landscape

CA

Newport-Beach-Spray-Technician-CA-92657

Remediation Technician

Irvine, CA, US, 92617

Dec 8, 2018

0.00 mi

Maintenance

CA

Irvine-Remediation-Technician-CA-92617

Service Technician

San Jose, CA, US, 95134

Dec 7, 2018

0.00 mi

Maintenance

CA

San-Jose-Service-Technician-CA-95134

Service Technician

San Jose, CA, US, 95134

Dec 6, 2018

0.00 mi

Maintenance

CA

San-Jose-Service-Technician-CA-95134

Porter

Playa Vista, CA, US, 90094

Dec 6, 2018

0.00 mi

Maintenance

CA

Playa-Vista-Porter-CA-90094

Maintenance Technician

Newport Beach, CA, US, 92660

Dec 6, 2018

0.00 mi

Maintenance

CA

Newport-Beach-Maintenance-Technician-CA-92660

Irrigation Technician - Oak Creek Golf Club

Irvine, CA, US, 92618

Dec 5, 2018

0.00 mi

Landscape

CA

Irvine-Irrigation-Technician-CA-92618

Maintenance Technician

Irvine, CA, US, 92612

Dec 5, 2018

0.00 mi

Maintenance

CA

Irvine-Maintenance-Technician-CA-92612